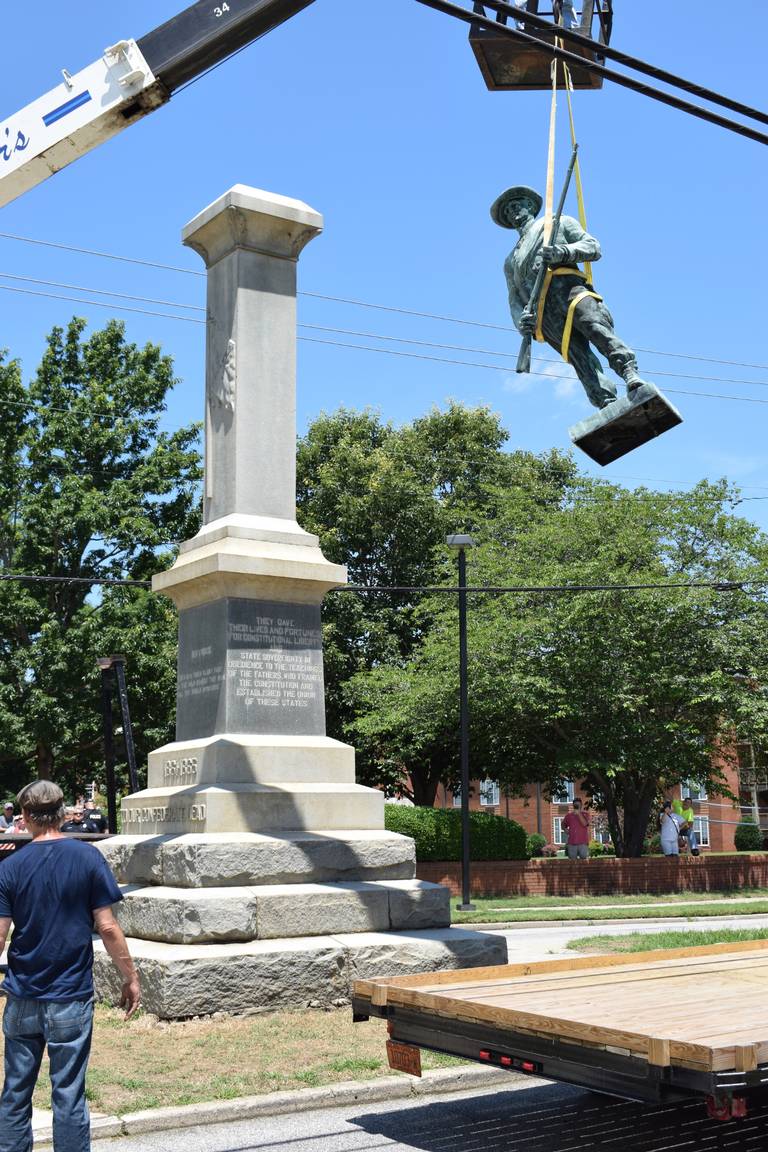 The North Carolina Court of Appeals issued a significant ruling on Tuesday, favoring the Town of Louisburg in a lawsuit surrounding the removal of a Confederate monument. This decision marks a pivotal moment in the ongoing debate over Confederate symbols and monuments in the United States.
Louisburg, a town located in Franklin County, situated about 30 miles northeast of Raleigh, had been at the center of a contentious legal battle over a Confederate monument. Local residents, who had initiated the lawsuit against the town, found themselves at odds with the court's determination that they lacked legal standing. According to the court, the residents failed to establish any "proprietary or contractual interest in the monument" or demonstrate "a legally protected interest invaded by defendants' conduct."
One of the lingering and unresolved questions that has loomed over the Louisburg case, much like numerous failed lawsuits surrounding Confederate monument removals in North Carolina, pertains to the ownership of the statue itself. The court's majority opinion sheds light on the plaintiffs' conflicting positions regarding ownership, stating, "They offer various and conflicting positions about who owns the Monument." The potential owners mentioned range from Franklin County to a specific County commissioner, the town of Louisburg, or even the Daughters of the Confederacy. Interestingly, each plaintiff either denies having an ownership interest in the Monument or admits to not owning it.
The controversy surrounding Confederate monuments has been a highly charged issue across the nation, often inciting passionate debates about history, heritage, and their place in modern society. In the case of Louisburg, the town council took a significant step three years ago when they voted to remove the Confederate statue from its long-standing position on North Main Street, where it had remained since 1914. The statue was subsequently relocated to Louisburg's Oakwood Cemetery.
The removal of Confederate monuments in various locations had been accompanied by public controversy, and it has prompted action in several parts of the state and the nation. In fact, the Louisburg police chief declared that the situation constituted a public safety emergency, underlining the heightened tensions and the need for decisive action.
The North Carolina Court of Appeals' ruling in favor of the Town of Louisburg has far-reaching implications. It not only resolves this particular case but also sets a precedent for how similar cases may be decided in the future. The debate surrounding Confederate symbols, their significance, and their place in the public sphere remains a complex and divisive issue, with passionate voices on both sides defending their perspectives.
The outcome of this legal battle underscores the intricate nature of legal questions surrounding Confederate monuments and the challenges of addressing deeply rooted historical and cultural symbols in the United States. As debates about such monuments continue across the country, legal decisions like this one are likely to influence future actions and discussions on the matter.
This article appears here. https://ncnewsline.com/2023/08/16/nc-appeals-court-rules-for-town-of-louisburg-in-removal-of-confederate-monument/
Also see this https://docsouth.unc.edu/commland/monument/16/